Top 5 Wednesday is currently being hosted by Sam at ThoughtsOnTomes. If you want to learn more about the group or are considering joining in, check out the Goodreads group. Each week has a different topic, and you just post five books that fit that topic.
May is mental health awareness month and we're wrapping up this month by recommending books that discuss mental illness and maybe discuss topics we're not used to reading out.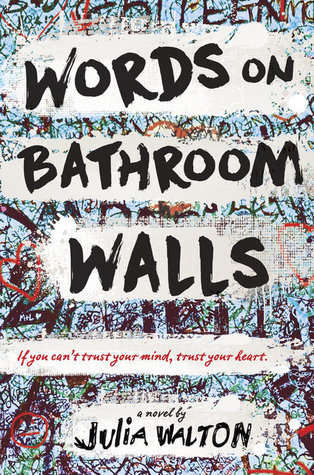 Words on Bathroom Walls by Julia Walton, this is a book about a young man with schizophrenia attending high school. I've never read a book like this before, and I was incredibly impressed by it. The story is told through Adam and we see want he sees and experience what he experiences. I don't want to give too much away, but I found it really interesting how he deals with his hallucinations and breaks from reality. It's a really well-done book. If you're going to pick it up though, be aware that besides the obvious trigger warning for mental illness, it does discuss the Sandy Hook school shooting.
Wintergirls by Laurie Halse Anderson- I think all of Laurie Halse Anderson discusses difficult topics in a real, raw, whole way. Wintergirls is about eating disorders and although I've read a few about this topic, this one sticks out to me more than the others because of how ugly it made everything. There wasn't sugar coating. I think there is always a little bit of,  not exactly glorification, but being inside the head of the person with the disorder and the harsh reality of it doesn't shine through like it should. I read this book about 10 years ago, so I don't quite remember the details but I remember being so drawn into the narrative. I think it's a great book.
This may be a bit of a dated answer but Girl, Interrupted by Susanna Kaysen is a really good book. It's been a while since I've read this book or watched the movie so I'm a little rusty on the details but I remember both of them being really well done. It discusses all different kinds of mental illness, the book is sort of an antiquated way because it takes place in the 1960s but I think it's an important book when it comes to seeing how mental health treatment has changed over the years. The movie is also incredibly good and has Angelina Jolie, Winona Rider, and Brittany Murphy (and for like 5 seconds in one scene Misha Collins).
Finding Audrey by Sophie Kinsella. I really enjoyed this book. It reads on the younger side of YA, I would highly recommend it for, like, 8th-grade girls. I think it discusses mean girls and anxiety very well. There is a bit of a savior story arc which was a little annoying, but the narrator is 14 so it makes sense in a way. It was a great book about overcoming obstacles and living with anxiety.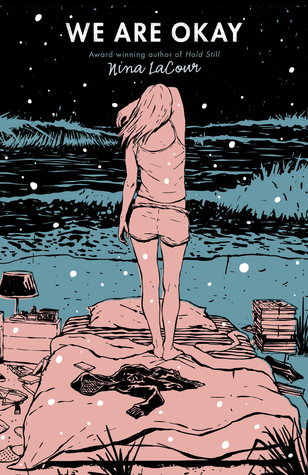 We Are Okay by Nina LaCour. This is a beautiful book that deals with depression, unlike anything I've ever read. It's a fantastic book about learning how to live again, loss, friendship, romance, and so many other things in a fairly short novel. It's very well done and I highly recommend it.
There are a million more books about mental illness, some on my TBR and other I'm sure I'll be adding after I check out other people's T5W.
What are your favorite books about mental health?
Until next time Internet,
Deanna