Welcome to another fun month of The Calendar Girls!
Calendar Girls is a monthly blog event created by Melanie at MNBernard Books and Flavia the Bibliophile and now be hosted by Katie at Never Not Reading and Adrienne at Darque Dreamer Reads.  It is designed to ignite bookish discussions among readers and was inspired by the 1961 Neil Sedaka song Calendar Girl.
This month in celebration of Mother's Day here in the US, we're highlighting Mother-Daughter relationships
I am a reader of YA, and one of the biggest criticism of this category of literature is the lack of parental presence in most of these books. This has changed in recent years. There seems to be a big swing in including supportive parents and or stating that parents at least exist. Many YA books take place at boarding schools or away from a place where parents would be around. So this month was a huge challenge. I know some of my fellow Calendar Girl bloggers are also big YA readers, so I'm looking forward to seeing their choices.
I take note of some more recent YA books that have a good daughter-father relationship but a heavily strained mother-daughter one. Most notably The Way You Make Me Feel by Maureen Goo. I really loved this book, and it was going to be my pick for this month until I remembered it wasn't a parental relationship, but strictly "mother." This book has some problematic parts, but I think overall it has a great character arc and how Clara experiences her mother is very interesting. It shows millennial parenting and social media influencers in an interesting light. I just really liked this book.
However, my pick for a mother-daughter relationship in a book is Jennifer Weiner's Certain Girls.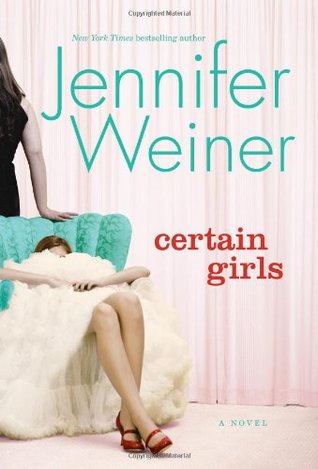 So it's been a hot minute since I read this, but I remember really enjoying this book, as I enjoy most of Jennifer Weiner's books. I read a few of them and they are quite delightful.
This book alternates narrative been Cannie Sharpio and her twelve-year-old daughter Joy. Their relationship is an interesting one. Joy is just starting to hide things about her life from her mom. Cannie thinks everything this great and loves her daughter more than life. Joy has a few disabilities due to being extremely premature, she wears hearing aids and is very short in stature, I believe, and therefore gets picked on at school. She is also at the age where the kids at school have discovered who Joy's mom is. A writer who wrote the prequel to this book Good In Bed (which is a real book by Jennifer Wiener and also super good). Joy upon discovering this book is, as I'm sure every twelve-year-old would be, completely horrified. She also takes the book as complete gospel and doesn't understand there are nuance and fictionalized retellings in novels–even those based on true events.
Joy can be a bit annoying as a narrator, mostly because she's twelve, but what I really enjoyed about this book was seeing the same relationship in two parts. This isn't a Gilmore Girl's mother-daughter relationship. I think Cannie wants it to be. She works extremely hard for her daughter and family.
I chose this book because I think it depicts something real. It's not perfect its complicated. And for me, that's what makes it good.
—-
I'm very excited to see what everyone picked this month, this was a hard one. Feel free to join in the fun by writing up your own favorite Mother-Daughter relationship book and pin back to Katie and Adrienne.
Until next time Internet,
Deanna