WWW Wednesday is a meme currently hosted by Sam at Taking on a World of Words. It's very simple – answer the three questions and leave a link in Sam's post.
The Three Ws are:
What are you currently reading?
What did you recently finish reading?
What do you think you'll read next
What am I currently Reading?
Dread Nation by Justina Ireland – I'm listening to the audio of this, it's done by the same woman who read The Children of Blood and Bone (and a bunch of other books but that's the one I've listened to) Bahni Turpin. She is incredibly talented. I'm only an hour in so the "story" hasn't started yet, but I'm sure I'm going to like it. A zombie story set in post-civil war America, I'm here for it. Plus it has amazing reviews everywhere. I'm looking forward to getting into it.
The Vanishing Stair by Maureen Johnson – I'm sure you know by now my feelings about Maureen Johnson– she is the best. I'm about 40 pages into this because I started it on Monday, but I know it's going to be great. I'm already loving the 1936 storyline. There is much to unpack. Middle books in a series can sometimes disappoint, but I'm sure this one is going to be delightful.
What did I recently Finish?
I've finished a bunch of books since my last WWW Wednesday.
Outlander by Diana Gabaldon (my review) This was okay. Not my cup of tea but a decent book. I read this with my friend Jen. I'm tentatively considering watching the show.
The Fact of a Body by Alexandria Marzano-Lesnevich (my review) I found this one interesting, part the author's story part the story of a child murderer, I found it an interesting and compelling read.
Sadie by Courtney Summers (my review) LOVE IT. My favorite so far this year. I listened to this book, and it was the perfect medium to read this book. I found it original while covering a subject matter that I've read a lot of books about. It so was so good.
The Wicked King by Holly Black (my review) This was also amazing. Fantasy isn't my favorite thing, but this book is so good. Holly Black is so talented. The characters and this world … I could go on forever. Well done, read this series if you haven't.
Female of the Species by Mindy McGinnis- Another dark, but interesting book. Exploring different kinds of girls in high school, I think this book was so well done and just creepy enough with it's rotating narrative. A review is queued up for next Monday.
Allegedly by Tiffany D Jackson- I read this book in a day it was so good. As you can see, most of the books I've read so far in 2019 are about murder, and weirdly enough, child murder. This one works with a narrator who may or may not be reliable and it's brilliant. I loved it so much. Gushing review coming soon.
What do I plan to read next?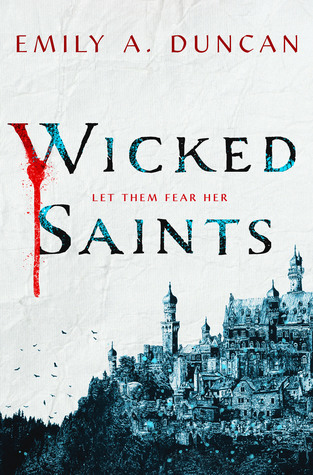 Wicked Saints by Emily A. Duncan- I was lucky enough to receive and ARC of this through NetGalley and I'm really excited about it. I have it in my "currently reading" on GoodReads but I haven't started it yet, I plan to in the next day or so.
I'm re-doing my physical book TBR pile so I don't know what's next there, we'll see. As for audio, since I just started Dread Nation, I haven't thought that far ahead. I feel like I say this every time, but I think I'm going to listen to one of the non-fiction books I have awaiting me on audible.
That's what my reading life has been the last few weeks, what are you reading?
Until next time Internet,
Deanna