The Details
Publisher: Haper Collons
Published: January 16, 2018
Genres: YA, mystery, thriller
My Rating: 5 Stars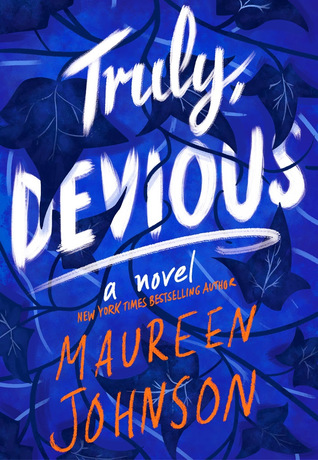 Ellingham Academy is a famous private school in Vermont for the brightest thinkers, inventors, and artists. It was founded by Albert Ellingham, an early twentieth-century tycoon, who wanted to make a wonderful place full of riddles, twisting pathways, and gardens. "A place," he said, "where learning is a game."
Shortly after the school opened, his wife and daughter were kidnapped. The only real clue was a mocking riddle listing methods of murder, signed with the frightening pseudonym, Truly Devious. It became one of the great unsolved crimes of American history.
True-crime aficionado Stevie Bell is set to begin her first year at Ellingham Academy, and she has an ambitious plan: She will solve this cold case. That is, she will solve the case when she gets a grip on her demanding new school life and her housemates: the inventor, the novelist, the actor, the artist, and the jokester. But something strange is happening. Truly Devious makes a surprise return, and death revisits Ellingham Academy. The past has crawled out of its grave. Someone has gotten away with murder.
My Review
You probably know this about me, but I love Maureen Johnson. She's by far my favorite author and probably my favorite person and definitely my favorite twitter personality. I have been looking forward to this book for a long time. I think she teased it almost two years ago, and at NerdCon last year she teased a February 2018 release. We got lucky and got it in mid-January.
Probably 9 years ago, Maureen Johnson and I had a twitter conversation about Law and Order. It was when they were trying to start a Law and Order LA, and Maureen and I had a very brief exchange about how Law and Order is basically all Jack McCoy. She's a person who loves mysteries, Sherlock Holmes, Agatha Christie, murder shows, true crime. Truly Devious is the story that Maureen Johnson was born to write.
There are two stories happening at once, one in the mid-thirties, and one present day. The two are intertwined in a complex and fun way. The first is the death of the Ellinghams in the 1930's. This story has a classic feel to it, it feels like a story I've seen on A Crime To Remember on Investigation Discovery (the murder channel). The present, the story that's the main narrative of the book, Stevie Bell and her classmates mirror the characters that were there the night of the Ellingham murders. Because of the nature of Ellingham Academy, the students are a collection of eccentric creative types– the weirdos.
I have a busy life, so it took me about a week to get through the first quarter of the book. Knowing this is going to be a trilogy, the setup of the Academy and life there is a little longer than it would be if this was a stand-alone book, but once I got through that part, I read the last 3/4 in one sitting straight through. Once the big thing that happens in the present day story happens, it's very quick reading.
I loved Stevie Bell because there is a part of me in Stevie Bell. I'm a person that's always a little bit too into watching crime shows and getting caught up in true crime podcasts and loves discussing murder. I'm one of the people this book is dedicated to– "For anyone who has ever dreamed of finding a body in the library."
One thing that has always struck me with Maureen Johnson's books is that she's funny. This is a book about murder and death, and yet, it's hilarious. There's a quote on page 42 of my copy: "His voice was deep and smooth and rich, like what gravy would sound like if gravy could talk. (Which, luckily, it cannot.)" This book is filled with quotes like that. It's funny and real and amazing.  Her characters are strong and each has their own personality and motives outside of the main character. The rest of the school isn't built around Stevie, she's placed into a world that exists outside of her. I hope that makes sense. Stevie Bell doesn't propel the other characters, they propel themselves.
At the end of this book, it ends with the worst words a reader who devours books like this can read "To be Continued." We're not getting the next Truly Devious book until next year, and honestly, that's far too long, but I look forward to getting my hands on in it.
Until next time Internet,
Deanna