WWW Wednesday is a meme currently hosted by Sam at Taking on a World of Words. It's very simple – answer the three questions and leave a link in Sam's post.
The Three Ws are:
What are you currently reading?
What did you recently finish reading?
What do you think you'll read next?
What am I currently reading?
I wasn't planning on reading Turtles All the Way Down yet, but since I'm part of so many nerdfighter groups on Facebook, I've been dangerously close to being spoiled, so I've moved this up my TBR. I'm about halfway through. What can I say about John Green that hasn't already been said? I love Aza, John Green is an amazing writer who is able to capture character and create these incredibly memorable characters, both the main characters and the side characters. I will be writing a glowing review that will be up in a couple weeks when I finish this up.
I'm about a quarter of the way through The Secret Loves of Geek Girls. I'm loving it. It's a collection of stories and drawings for and about girls and women being geeks and growing up geeks. How loving comics and Star Wars and writing and reading fanfiction has shaped women. It's lovely.
What Have I recently Finished Reading?
 At the time I am writing this blog post, I have 2 hours and 23 minutes left in the audiobook of Washington: A Life by Ron Chernow. I will finish it by the end of Wednesday.
I will have a post about the Life of the only Adult in the room tomorrow. I have some feelings about this book. George Washington was a very interesting man, and Chernow's depiction of not just the character of George Washington that is so often portrayed, but the not so great sides of his life as well. More of this tomorrow.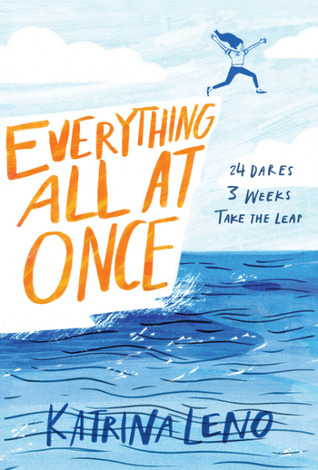 I finished up Everything All at Once by Katrina Leno over the weekend. I have added the rest of Katrina Leno's books to my Goodreads to read list. I loved the writing. Her characters were great, her writing was great. The ending of this book was weird, but I loved the message and story. The full review will be up on Monday.
What do I plan to read next?
My next physical book will be the September Uppercase book Box selection: War Cross. I've heard some things about this, all of them good. I'm not 100% sure that this will be my kind of book, but I trust Uppercase. So I'm looking forward to it.
TOMORROW I will be starting the second Welcome to Night Vale novel. I have been excited about this since Joseph Fink announced it before telling me he loved me at the start of an episode of Night Vale. I'm excited to learn about Carlos and his scientist, and I'm excited to have the voice of Cecil in my ears for a prolonged period of time.
I also have a couple ARCs that I've gotten through NetGallery that the publication dates are fast approaching. One is All the Wrong Chords by Christine Hurley Deriso. I've been excited to pick this up, it looks equal parts hopeful and sad which is my kind of book.
And that's what the rest of November looks like I think. November is a jumble of a lot of things with NaNo and everything else. It's busy and fun.
What does your week in books look like?
Until next time Internet,
Deanna