Top 5 Wednesday is currently being hosted by Sam at ThoughtsOnTomes. If you want to learn more about the group or are considering joining in, check out the Goodreads group. Each week has a different topic, and you just post five books that fit that topic.
This week's topic is: Books you've picked up because you've heard about them in an online book community.
To be honest, this is 95% of my books. I'm going to pick my favs.
Back in the day, there was the youtube channel called Five Awesome Girls, they were 5 dorky girls in their teens and early twenties that made vlogs on weekdays. One of the things that all of the girls love is books. So many of their discussions were about books. Hayley, Thursday, loved Megan McCafferty's Jessica Darling Series. I remember her video gushing about the 5th and final book of the series and I knew that I had to pick up these books. I did, and I have in the last nine months of book blogging, recommended this series 467 times. It's great. It's real, it borders the YA/NA/Adult contemporary line. They are just good books.
So, technically the first John Green book I read was Paper Towns, but I ended up ordering the 3 of his books that existed at the time when I ordered Paper Towns. Looking for Alaska is by far my favorite. I read it because I was part of the Nerdfighters.
Also because of an extremely popular youtube channel, I picked up Maureen Johnson's 13 Little Blue Envelopes. It was the first book of the Vlogbrother's book club discussion thing that I don't think is still a thing. I was about 4 chapters into 13LBE be before I ordered all of the other books.
And the rest, as they say, is history.
So my best good friend Maureen Johnson was talking about this book on the Twitter, and since I trust Maureen probably more than I should, I picked up We Were Liars.
I ended up reading it, like, way after anyone in Maureen's twitter @replies was talking about it, but I still read it because Maureen told me to. Such a good book. I read it over two years ago, and I still think about it sometimes. Like, should I have figured it out? Why didn't I see that coming?
This is such a good book.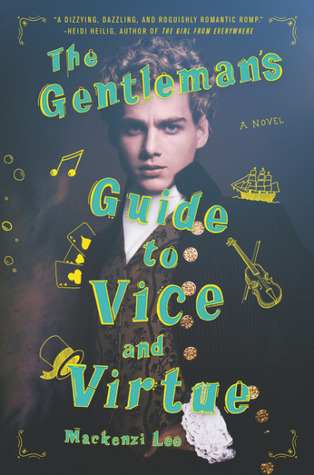 This was was y'all's fault.
I decided to get the audiobook of The Gentleman's Guide to Vice and Virtue because the blogs I follow here on WordPress would not stop talking about it– with good reason.
I don't really know what I was expecting, but I got something truly one of a kind and amazing. This book is a thing of absolute beauty. I anxiously await for the sequel about Felicity and Pirates. I CAN'T.
And that's my top 5. What books have you read because of weird internet peer pressure? 😉
Until next time, Internet,
Deanna