The Details
Publisher:  G.P. Putnam's Sons Books for Young Readers
Published: April 11, 2017
Genres:  YA, Historical Fiction, Romance
My Rating: 4.5 stars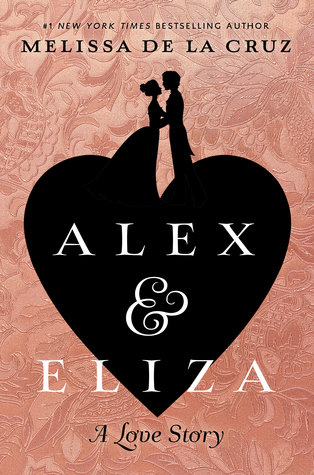 Their romance shaped a nation. The rest was history.
1777. Albany, New York. 
As battle cries of the American Revolution echo in the distance, servants flutter about preparing for one of New York society's biggest events: the Schuylers' grand ball. Descended from two of the oldest and most distinguished bloodlines in New York, the Schuylers are proud to be one of their fledgling country's founding families, and even prouder still of their three daughters—Angelica, with her razor-sharp wit; Peggy, with her dazzling looks; and Eliza, whose beauty and charm rival that of both her sisters, though she'd rather be aiding the colonists' cause than dressing up for some silly ball. 
Still, she can barely contain her excitement when she hears of the arrival of one Alexander Hamilton, a mysterious, rakish young colonel, and General George Washington's right-hand man. Though Alex has arrived as the bearer of bad news for the Schuylers, he can't believe his luck—as an orphan, and a bastard one at that—to be in such esteemed company. And when Alex and Eliza meet that fateful night, so begins an epic love story that would forever change the course of American history.
My Review
So, this is not a secret, but I kind of love Alexander Hamilton. Like, part of it is the play, but I listened to the Audiobook of the Chernow biography, and, I don't know how to explain it, but there is something about this man that I am drawn to.
That being said, I walked into this book with low to medium expectations. However, I was pleasantly surprised with how much I enjoyed it.
I was worried that this book would paint Alexander Hamilton in a way that was very untrue to the man that I feel like I got to know through the 40-hour biography I listened to. However, within 20 pages, someone tells Alexander to stop talking. I felt less anxious about overly fairy tale-izing Alexander and Eliza. There were elements of that, but nothing that– for me– took too much away from the story.  I mean, parts of it were leading heavy on the fiction side of historical fiction, but I didn't take too much away from the story.
This book read like slow burn fan fiction, which I mean in the highest of praise. It has that feeling that you get reading about your OTP slowly falling in love. You know that at the end of this journey, the right couple will get together, and that makes your heart warm. It's so cute, and sweet and just adorable.
I'm not one that reads a lot of or honestly enjoys reading straight up romance books, I like there to be a mix of things. This book is pretty much all love story with the backdrop of the Revolution, and I loved it. The writing was great, de la Cruz captured what I would call 1780's language. She discusses balls and clothes and houses, in a way that shows she did a great deal of research.
One thing that kind of bothered me, was that Alexander Hamilton is referred to as Alex, which Eliza, according to what I know, never called him that. She called him Hamilton. I don't know why it bothered me, but it did. Maybe it's the formalness that I think of when I think of the revolution.
Overall, I honestly loved this book. I think I texted my friend Jen 754 times in the two days I was reading this book telling her how much I loved it. There were small shout-outs to the musical, like one moment where Eliza greets her sisters at the door, and Angelica and Eliza exclaim each others names, and Peggy pops her head around Angelica in the doorway and says "And Peggy!" There were a couple more, but that's the one I took a snap chat of to send to Jen.
I think this would be a great read for people who like cute romance stories. If you're into Alexander Hamilton and are looking for historical accuracy, this might not be the best, but there are parts of the book that are very true. Some are rearranged to fit the timeline of the book, but they happened.
I loved reading this book.
Do you have any suggestions for Historical Fiction Romance Stories that you love?
Until next time Internet,
Deanna