The Details
Publisher: ABRAMS Publishing
Published: January 10, 2017
Genres:  YA, retelling, fantasy, romance
My Rating: 3 stars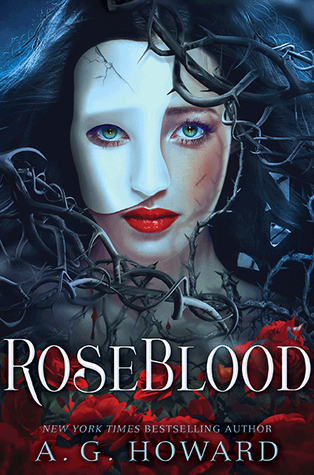 In this modern day spin on Leroux's gothic tale of unrequited love turned to madness, seventeen-year-old Rune Germain has a mysterious affliction linked to her operatic talent, and a horrifying mistake she's trying to hide. Hoping creative direction will help her, Rune's mother sends her to a French arts conservatory for her senior year, located in an opera house rumored to have ties to The Phantom of the Opera. 
At RoseBlood, Rune secretly befriends the masked Thorn—an elusive violinist who not only guides her musical transformation through dreams that seem more real than reality itself but somehow knows who she is behind her own masks. As the two discover an otherworldly connection and a soul-deep romance blossoms, Thorn's dark agenda comes to light and he's forced to make a deadly choice: lead Rune to her destruction, or face the wrath of the phantom who has haunted the opera house for a century, and is the only father he's ever known.
My Review
This will contain spoilers because there is one part of this that I'm kind of angry about and it's a spoiler.
I must start this by saying I am not familiar with the original story, which did leave me feeling like I was missing something. So about half way through, I broke down and Wikipediaed The Phantom of the Opera, and sadly it didn't help much.
Overall, this was an interesting book. I feel like it missed a few notes that would have made it a great book, but it ended up being okay. One thing that bothered me was lack of foreshadowing. I'm going to throw in a Harry Potter thing here. In Prisoner of Azkaban, looking back at the story, it can see very clearly that the black dog was obviously Sirus and the Lupin was a werewolf. When I was 13 and read it the first time this was mind blowing, but re-reading it, the text of full of foreshadowing that it shouldn't have been a surprise. (I mean Lupin's name is literally Werewolf Werewolf which should have been a sign. And the words "serious" and "seriously" are used more in the 3rd Harry Potter book than anywhere else ever.) I think that there wasn't enough of that in this book when mysteries were revealed they didn't connect in an "I knew it!" or an "Oh that makes so much sense why that character was being cagey" way. There could have been so much more, but there wasn't.
Rune and Thorn were well-formed characters, but I felt like something was missing from Rune's school friends that kept them from being three dimensional. The bully girls didn't really seem to have much to them either. I think that this subplot was as fleshed out as it could have been and that the drama happening on two sides of Rune's life could have been an interesting pull in her life that made it just a little bit more complicated. Kat and Roxie could have been excellent secondary villains, but they were left as one note mean girls instead.
The pacing also felt weird. It didn't feel like information was given in a way that made the pacing of the book make sense. Either nothing happened or everything happened in the course of a chapter. There were a few points where the story skipped over the exciting bit and then told it looking back at it instead of as it was happening, which I found weird.
I did think the two different Points of view and narrators was effective to a degree. I feel like for some pieces that it left no mystery. Everything crazy and weird that happened to Rune was very quickly explained away by what Thorn did in the next section. As the story went on, it did fall into a rhythm though.
This is the part that bothers me with the spoiler.
So, there is a little bit of build up that Erik in the book could be the Count of Saint Germaine. Rune's last name is Germaine, her father's middle name is Saint. Rune googles her family and finds information about The Count of Saint Germaine. Erik is an expert violin player like The Count, he's seemingly immortal, and has not aged beyond his mid-fifties, like the Count. But he's not The Count. This could have been the coolest thing, but that possibility was danged for a couple chapters then snatched away.
If you don't know who the Count of Saint Germaine is, I recommend reading the Wikipedia page about him, because it's super interesting. I wrote an embarrassing long comment on Melaine's Calendar Girls discussion post talking about the Count, so I'm not going to bore anyone else with my ramblings about how cool an immortal possible vampire this guy is. BUT Erik could have been everything Erik was and the Count of Saint Germaine. There is a theory out there that The Count was Vlad the Impaler, the guy Dracula is based on, and vampire that lives on life forces, and that he knew Ben Franklin. Seriously just read the Wikipedia page about the Count of Saint Germaine.
Overall, I did think there was a good story here, I just feel like there were elements that were missing and could have been done better. I wish I knew more about the original story so I could compare them, I'll see if I can find the movie somewhere.
Have you read Roseblood? What did you think?
Until next time Internet,
Deanna