The Details
Publisher:  Katherine Tegen Books
Published: June 27th, 2017
Genres:  YA, historical fiction, LGBT, adventure
My Rating: 5 stars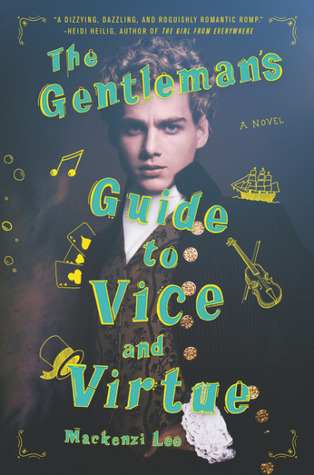 Henry "Monty" Montague was born and bred to be a gentleman, but he was never one to be tamed. The finest boarding schools in England and the constant disapproval of his father haven't been able to curb any of his roguish passions—not for gambling halls, late nights spent with a bottle of spirits or waking up in the arms of women or men.
But as Monty embarks on his Grand Tour of Europe, his quest for a life filled with pleasure and vice is in danger of coming to an end. Not only does his father expect him to take over the family's estate upon his return, but Monty is also nursing an impossible crush on his best friend and traveling companion, Percy.
Still, it isn't in Monty's nature to give up. Even with his younger sister, Felicity, in tow, he vows to make this year-long escapade one last hedonistic hurrah and flirt with Percy from Paris to Rome. But when one of Monty's reckless decisions turns their trip abroad into a harrowing manhunt that spans across Europe, it calls into question everything he knows, including his relationship with the boy he adores.
My Review
On Wednesday, I commented on my progress on this book, and as it turns out, I was just getting to the good parts.
I purchased this book because I had seen fellow bloggers raving about it and needed to step away from Sherlock Holmes for a couple days. I love Sherlock, but a full month of straight Sherlock as I drive was going to be too much. I had an audible credit, so clicked. I wasn't sure what to expect, because I do this thing where I don't read the blurb, and just go on true of my friends in the blogging world.
This is an amazing story. First of all, the voice of this book, Christian Coulson, is amazing. Gold star. It was the perfect voice for these characters and this story. The accents are fantastic, the way he reads the dialogue, the way he talks with the emotion of the scene. This was a perfect match. Well done, sir, extremely well done.
Since I've been listening to Holmes, which does take place about 100 years after this book, and I've recently listened to some the Bronte Sisters novels which is closer in time to the setting of this story, I'm slightly familiar with the language of the time. Sometimes with historical fiction, the language can feel off. But Lee uses phrases like "five and ten" to say 15 and using "Macaroni" to mean fashionable. (I would like to thank Tumblr for learning that macaroni means fashionable and having that silly rhyme about Yankee Doodle make sense.) It's just good. Well researched and good.
The themes in this book, Monty and Percy's relationship, having their choices for lodging because they have Felicity with them are little pieces that I think make this story deeper and smarter. It at times reads like a book from 17 something, which is just brilliant. All three of the young characters are separate people with different motivations, different lives. Even Helena and Donte are written as whole people.
One of the things that really stood out for me was Monty's relationship with his father. It's clear throughout the book that how Monty's father treated him takes a toll on this boy. Over and over when someone makes a sudden move or he actually gets hit, he reacts how you would expect an abused child to react. It's so thoughtfully written. Such care was taken in making these characters real. It's a brilliantly written book.
I was, honestly, expecting a bit of a romance novel, rom-com style thing, and to be fair, the romance is a huge part of this story, but it's pretty much an adventure novel with Pirates and highwaymen and sinking islands and a puzzle box. I have to admit that I sometimes roll my eyes quite hard at hints of romance in the books I read, but with this book, from the opening lines, it's clear that the relationship between Monty and Percy is going to be a big part of this, and it's perfect.
I can't point at a part of this book I didn't like. Listening to this story unfold did this thing where I wished my hour-long commute was a little longer so I could listen to another chapter before I had to go into the building. This is an get book. I highly recommend it.
Have you read The Gentleman's Guide? What did you think?
Until next time Internet,
Deanna